Let's face it, buying custom printed t-shirts in the Cariboo can be a challenge. There are great distances between you and the closest vendor. You don't really want to drive an hour just to talk about a small order. Enter Direct To Garment Printing and the Cariboo's Ultimate Promotions.
The owners of What's On Cariboo have been in the promotional products business for nearly 15 years. During that time they have sold a LOT of t-shirts to mountain bike races, kids races, walk/run fundraisers and community events.
Often times there are multiple logo colours and multiple logos that increase costs. How is an event organizer supposed to nail down the costs of a custom silkscreened shirt for their events if your sponsors are still coming on board a few weeks from event time?
Custom t-shirts are undergoing a full-colour revolution with Direct-to-Garment (DTG) printing technology. Unlike traditional screen-printing, which requires multiple passes to create a colour image, DTG uses advanced inkjet technology to print a higher resolution image in a single pass. Just like your printer at home but now you can expect a much higher quality looking image on your promotional or team t-shirts.
Ultimate Promotions offers a mail order product that will ship to a post office box. This is no small feat in today's ship-to-your-door mentality with larger suppliers who won't accept a PO box for shipping. (even though us locals know that the shipment will end up at the post office anyway!)
We supply full colour imprints on a decent quality t-shirt in just one pass. It's easy to determine your costs well in advance of your order. Many of you have already used a "Windmill Of Canada" product if you have received a desk calendar or a pen in the mail from the "Perfect Pen" company. It's the same people. They have been investing heavily in this new t-shirt printing technology and other full colour products.
Recently we caught up with Eric Vachon of Windmill Canada to get the insiders view of this exciting new product.

"Screen printing is done using one color at a time and in multiple runs. This can result in registration issues with more intricate designs – where outlines or images are not lining up exactly on the final product. DTG is printed in multiple colors and one run, resulting in a High Definition, detailed imprint with no variation in print from shirt to shirt."
For the consumer who is accustomed to silkscreened t-shirts,  it means you never really know how much a job is going to cost until you are almost ready to run the job. If you are budgeting for future projects, a simple change to your draft logo can cost you hundreds in set up charges down the road that you didn't budget for. DTG eliminates this issue.

Smaller Orders, Higher Quality

With DTG, gone are the days of having to pay too much in set-up costs and minimum quantities, when all you want are enough t-shirts for a specific event. Ultimate Promotions can offer small runs (contact us for minimum order information) and still deliver a top-quality image – courtesy of a state-of-the-art Kornitdirect to garment printer.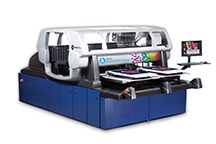 "Not all suppliers have the same technology when it comes to DTG"    says Vachon. " Drug store/photo kiosk apparel options are more for one off items, where the quality is more for personal use – we are a professional print company and we cater to higher expectations."
With Direct-To-Garment printing you get the option of small batch flexibility and easy customizing all in one. Extensive color options and a level of design detail that even the best screen printers cannot match.
Cost-Effective Innovation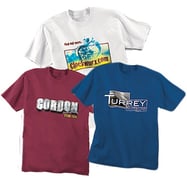 Compared to screen-printing's limitations of a single design, simple shapes, and large minimum orders, DTG is the sensible and cost-effective choice for your promotional t-shirts. Find out how affordable and how much impact a Direct-To-Garment promotional t-shirt could be for your business or organization.
You may be interested
Most from this category